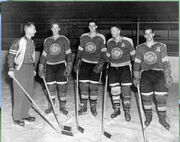 The Jonquiere Marquis (French: Marquis de Jonquière) were a junior team in Jonquiere, Quebec.
They played for one full season in the Quebec Junior Hockey League (1953-54) and then started the 1954-55 season. The Marquis, beset by poor attendance and play, dropped out on November 10, 1954 with a record of 1-12-1-3.
The team had been the only team in the league not owned by the Montreal Canadiens. They were a farm team of the Chicago Blackhawks.
The Marquis later played in the Saguenay Junior League from 1956-67 and won the league title in 1962-63, 1964-65, 1965-66.
In 1953-54 their coach was former NHL goaltender Gerry McNeil.
The name Jonquiere Marquis is emblematic in Jonquiere's hockey and has been and still is widely used ever since this original team by various Pee-Wee, Bantam, Midget, Junior and senior teams based in Jonquière. The team was the inspiration for the new name of the semi-professional Ligue Nord-Américaine de Hockey team based in Jonquiere, the Saguenay Marquis (formerly known as the Saguenay 98.3).
Alumni who played in the NHLEdit
Ad blocker interference detected!
Wikia is a free-to-use site that makes money from advertising. We have a modified experience for viewers using ad blockers

Wikia is not accessible if you've made further modifications. Remove the custom ad blocker rule(s) and the page will load as expected.