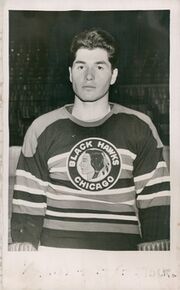 John Harms (b. April 25, 1925 in Saskatoon, Saskatchewan - d. January 5, 2003) was a professional ice hockey right winger who played 43 games in the National Hockey League with the Chicago Black Hawks.
He played junior hockey for the Saskatoon Quakers in 1942-43. The next season he turned pro with the Hershey Bears and then the next season made the Blackhawks. Harms scored 5 goals and 5 assists in 43 games with Chicago (plus one scoreless game in 1943-44).
Harms played for the Kansas City team in the United States Hockey League from 1945 to 1950, winning the league championship in 1946 and 1947. He then split the 1950-51 season between the senior Regina Capitals and Nelson Maple Leafs.
From 1951-52 to 1960-61 Harms played for the Vernon Canadians, winning the Allan Cup in 1956. He retired in 1961 when the Canadians folded.
Ad blocker interference detected!
Wikia is a free-to-use site that makes money from advertising. We have a modified experience for viewers using ad blockers

Wikia is not accessible if you've made further modifications. Remove the custom ad blocker rule(s) and the page will load as expected.