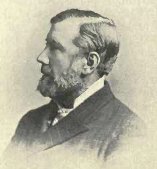 John Ross Robertson (December 28, 1841 – 31 May 1918) was a Canadian newspaper publisher, politician, and philanthropist in Toronto, Ontario.
The world of sports was also a focus for Robertson's public-spiritedness. A fervent advocate of amateur sport, he served as president of the Ontario Hockey Association from 1899 to 1905, which was a critical time period in the history of the sport. His battle to protect hockey from the influence of professionalism caused him to be called the "father of Amateur Hockey in Ontario." During his term as president, the OHA was able to set rules defining professionalism in hockey. He worked especially hard to rid hockey of increasing violence both on and off the ice. Robertson's donation of silver trophies to hockey, cricket, and bowling further encouraged amateur competition. The championship trophy of the Ontario Hockey League, the J. Ross Robertson Cup, is still named in his honour. He was inducted into the Hockey Hall of Fame in 1945.
Ad blocker interference detected!
Wikia is a free-to-use site that makes money from advertising. We have a modified experience for viewers using ad blockers

Wikia is not accessible if you've made further modifications. Remove the custom ad blocker rule(s) and the page will load as expected.