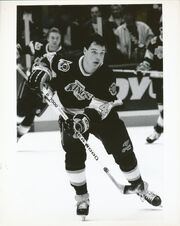 John McIntyre (born April 29, 1969, London, Ontario) is a retired professional ice hockey player who played 351 games in the National Hockey League. He played for the Toronto Maple Leafs, Los Angeles Kings, New York Rangers, and Vancouver Canucks.
McIntyre started out with the junior Guelph Platers from 1985 to 1989, winning the Memorial Cup in 1985-86. The Toronto Maple Leafs drafted him 49th overall in the 1987 NHL Entry Draft.
He played one-and-a-half seasons as a checker with the Leafs before being traded to the Los Angeles Kings in 1990. He spent three seasons with the Kings and then finished off his career with the New York Rangers and the Vancouver Canucks.
McIntyre retired in 1996. He played in 351 NHL games, scoring 24 goals and 54 assists.
External links
Edit
Ad blocker interference detected!
Wikia is a free-to-use site that makes money from advertising. We have a modified experience for viewers using ad blockers

Wikia is not accessible if you've made further modifications. Remove the custom ad blocker rule(s) and the page will load as expected.