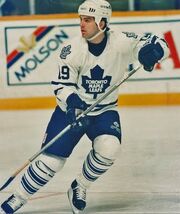 John Cullen (b. August 2nd 1964 in Puslinch, Ontario, Canada) is a former professional centre who played in the National Hockey League for the Pittsburgh Penguins, Hartford Whalers, Toronto Maple Leafs and Tampa Bay Lightning.
A Buffalo Sabres' pick in the 1986 NHL Supplemental Draft, Cullen signed as a free agent with Pittsburgh.
He retired in 1999. He then spent a season as an assistant coach for the Tampa Bay Lightning.
His father Barry Cullen played in the NHL; his uncles Ray and Brian also did.
Ad blocker interference detected!
Wikia is a free-to-use site that makes money from advertising. We have a modified experience for viewers using ad blockers

Wikia is not accessible if you've made further modifications. Remove the custom ad blocker rule(s) and the page will load as expected.