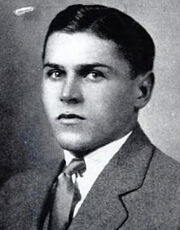 John Emory Cookman (September 2, 1909 – August 19, 1982) was an American ice hockey player who competed in the 1932 Winter Olympics, playing five matches and scoring two goals. The American ice hockey team won the silver medal that year.
He died in Tenafly, New Jersey.
External links
Edit
Ad blocker interference detected!
Wikia is a free-to-use site that makes money from advertising. We have a modified experience for viewers using ad blockers

Wikia is not accessible if you've made further modifications. Remove the custom ad blocker rule(s) and the page will load as expected.