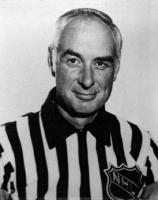 John George Ashley (March 5, 1930 – January 5, 2008) was a referee in the National Hockey League. He was born in Galt, Ontario, Canada.
John started his officiating career in 1959. From 1964 to 1972, John officated every Game Seven in the Stanley Cup playoffs, a testament to his legacy. John was elected to the Hockey Hall of Fame in 1981.
He died in Kitchener, Ontario on January 5, 2008.
References
Edit
External links
Edit
Ad blocker interference detected!
Wikia is a free-to-use site that makes money from advertising. We have a modified experience for viewers using ad blockers

Wikia is not accessible if you've made further modifications. Remove the custom ad blocker rule(s) and the page will load as expected.