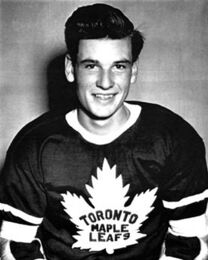 John O'Gorman Arundel
Hometown: Winnipeg, Manitoba
Died: September 19, 2002 at Kemptville, Ontario
Position: Right Wing / Defense

recruited by Toronto and joined St. Mike's in time to win the Memorial Cup in 1945. ... played another year of junior in Ontario before returning home. ... played two more seasons of junior with Winnipeg Monarchs. ... joined Sydney Millionaires for 1948-49 season. ... turned pro in 1949-50 with Pittsburgh Hornets. ... called up for three games with Toronto (December 31, 1949, January 1 and January 4, 1950). ... returned to Piitsburgh and then down from there to the Hornets farm team in Los Angeles. ... assigned to St. Michaels Monarchs for the 1950-51 season. ... moved to Saint John Beavers for 1950-51. ... both the Monarchs and Beavers lost in the Alexander Cup final. ... in 1952-53, joined Ottawa Senators and remained until the team folded in the middle of the 1954-55 season. ... finished off the season with the Sudbury before retiring.
Career Statistics
Edit
Awards & Achievements
Edit
Ontario Hockey Association Junior A Hockey Championship (1945)
George Richardson Memorial Trophy Eastern Canada Junior A Hockey Championship (1945)
Memorial Cup Canada Junior A Hockey Championship (1945)
Manitoba Junior Hockey League First All-Star Team (1948)
Turnbull Cup Manitoba Junior Hockey League Championship (1948)
Cape Breton Senior Hockey League Championship (1949)
Ontario Hockey Association Major Senior Hockey Championship (1951)
Maritime Major Hockey League Championship (1952)
External links
Edit
Ad blocker interference detected!
Wikia is a free-to-use site that makes money from advertising. We have a modified experience for viewers using ad blockers

Wikia is not accessible if you've made further modifications. Remove the custom ad blocker rule(s) and the page will load as expected.