Ad blocker interference detected!
Wikia is a free-to-use site that makes money from advertising. We have a modified experience for viewers using ad blockers

Wikia is not accessible if you've made further modifications. Remove the custom ad blocker rule(s) and the page will load as expected.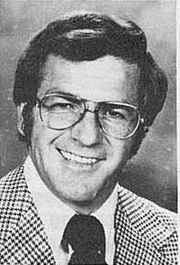 Gino Gasparini is a former head coach of the University of North Dakota Fighting Sioux hockey men's team and the current president of the United States Hockey League.
Born in Fort Frances, Ontario, he played for the Fighting Sioux from 1964-1967. Gino then played one year in the International Hockey League in Toledo. He then returned to UND as a graduate assistant while working on his masters degree. He transitioned into an assistant coaching position followed by the head coaching job.
1978-1994 University of North Dakota - Head Coach
1994-2003 USHL - commissioner
2003-2009 USHL - president
Head Coaching Record
Edit
Season
Team
Overall
Conference
Standing
Postseason
North Dakota (WCHA) (1978–1994)
1978–1979
North Dakota
30-11-1
1979–1980
North Dakota
31-8-1
1980–1981
North Dakota
21-15-2
1981-1982
North Dakota
35-12-0
1982-1983
North Dakota
21-13-2
1983-1984
North Dakota
31-12-2
1984-1985
North Dakota
24-16-2
1985-1986
North Dakota
24-16-1
1986-1987
North Dakota
40-8-0
1987-1988
North Dakota
21-20-1
1988-1989
North Dakota
22-18-1
1989-1990
North Dakota
28-13-4
1990-1991
North Dakota
24-17-2
1991-1992
North Dakota
17-21-1
1992-1993
North Dakota
12-25-1
1993-1994
North Dakota
11-23-1
North Dakota:
392-248-25
Total:
392-248-25

      National Champion         Conference Regular Season Champion         Conference Tournament Champion
      Conference Regular Season & Conference Tournament Champion       Conference Division Champion