Ad blocker interference detected!
Wikia is a free-to-use site that makes money from advertising. We have a modified experience for viewers using ad blockers

Wikia is not accessible if you've made further modifications. Remove the custom ad blocker rule(s) and the page will load as expected.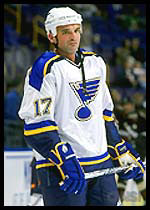 Joe Murphy (born October 16, 1967 in London, Ontario) is a former professional hockey right winger. Murphy grew up and played minor hockey in Newmarket, Ontario. Murphy was on the 1990 Edmonton Oilers when they won the Stanley Cup. He was also a member of the Calder Cup winning Adirondack Red Wings, as well as leading the Michigan State Spartans to the NCAA Div 1 Championship, giving him more professional and amateur championship titles than any other NHL player.
Murphy was drafted first overall by the Detroit Red Wings in 1986. Murphy's NHL regular season totals are 779 games, 233 goals, 295 assists. In the NHL playoffs he played in 120 games, scoring 34 goals and adding 43 assists. He is tied for third overall in career overtime goals in the playoffs, scoring 4 with Edmonton and Chicago.
Career statistics
Edit

                                  Regular Season              
Season  Team                    Lge   GP   G   A    Pts  PIM   
    
1986-87 Detroit Red Wings       NHL   5    0   1    1    2
1987-88 Detroit Red Wings       NHL   50   10  9    19   37
1988-89 Detroit Red Wings       NHL   26   1   7    8    28   
1989-90 Detroit/Edmonton        NHL   71   10  19   29   60  
1990-91 Edmonton Oilers         NHL   80   27  35   62   35 
1991-92 Edmonton Oilers         NHL   80   35  47   82   52  
1992-93 Chicago Blackhawks      NHL   19   7   10   17   18    
1993-94 Chicago Blackhawks      NHL   81   31  39   70   111    
1995    Chicago Blackhawks      NHL   40   23  18   41   89 
1995-96 Chicago Blackhawks      NHL   70   22  29   51   86 
1996-97 St. Louis Blues         NHL   75   20  25   45   69 
1997-98 St. Louis/San Jose      NHL   37   9   13   22   36 
1998-99 San Jose Sharks         NHL   76   25  23   48   73
1999-00 Boston/Washington       NHL   55   12  15   27   94
2000-01 Washington Capitals     NHL   14   1   5    6    20

                   NHL Totals         779  233 295  528  810
External links
Edit