Joan Snyder is a Calgary based philanthropist who has made financial contributions towards the sport of women's ice hockey. After the 2011–12 Calgary Dinos women's ice hockey season, the Dinos celebrated their gold medal win at the 2012 CIS National Championships by presenting Snyder with a gold medal.
Her mother, Phoebe, started playing hockey in the 1920's at the age of five when she would boy's hockey sticks. In 2008, Joan donated $9 million to a University of Calgary medical program, and in March 2011, she created the Joan Snyder Program of Excellence in Women's Hockey with a $500,000 gift. Both donations were dedicated to her mother. Snyder attended the 2010 Vancouver Winter Games and both the Canadian men's and women's hockey teams claim gold. At the Games, she met some of the players from the women's Olympic Hockey Team. The personal interactions motivated her to make a donation with the intention of improving the opportunities for the players.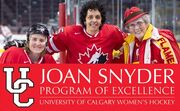 Philanthropy
Edit
March 15, 2011: Snyder made a donation to the Dinos women's hockey ice program for $500,000. The donation led to the creation of the Joan Snyder Program of Excellence. The gift allowed the Dinos to have significant financial resources through the 2015-16 season. In addition, part of the donation was to help improve coaching excellence, elite competition, sport services, and scholarships to student-athletes. [1]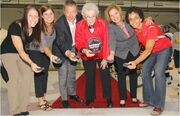 July 21, 2011: Philanthropist Joan Snyder donated $2 million to Winsport Canada. It is believed to be the largest single donation made to women's ice hockey. [2] The goal is to ensure priority rink access to female hockey players at all levels, and help expand the Canadian Women's Hockey League with the creation of Team Alberta. Part of the donation will cover the new addition to the Athletic and Ice Complex at Canada Olympic Park in Calgary. This will serve as the future home to Hockey Canada. In addition, there shall be four hockey rinks, one of which will be aptly called the Joan Snyder Rink. [3] Team Alberta will benefit with the allocation of free practice time, a dressing room exclusive to the club. Of note, the Joan Snyder Rink give priority to women's hockey bookings, but it will serve as the Team Alberta's home rink.
References
Edit
Ad blocker interference detected!
Wikia is a free-to-use site that makes money from advertising. We have a modified experience for viewers using ad blockers

Wikia is not accessible if you've made further modifications. Remove the custom ad blocker rule(s) and the page will load as expected.