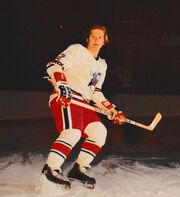 Jim Turkiewicz (born April 13, 1955 in Hamilton, Ontario) is a retired professional ice hockey defenceman. Turkiewicz played 392 games in the World Hockey Association. He played for the Toronto Toros and Birmingham Bulls.
He played junior hockey for the Peterborough Petes from 1971 to 1974. The Toronto Toros picked him 12th overall in the 1974 WHA Amateur Draft while the Montreal Canadiens chose him 88th overall in the 1975 NHL Amateur Draft.
Turkiewicz went to the Toros in 1974-75 and was a regular with the team through the 1978-79 season (the Toros became the Birmingham Bulls in 1976). He scored 25 goals and 119 assists in 392 WHA games.
After the WHA folded in 1979 Turkiewicz for four years in the minor pros and then two years with the senior Flamboro Mott's Clamatos. He retired in 1986.
References
Edit
Ad blocker interference detected!
Wikia is a free-to-use site that makes money from advertising. We have a modified experience for viewers using ad blockers

Wikia is not accessible if you've made further modifications. Remove the custom ad blocker rule(s) and the page will load as expected.