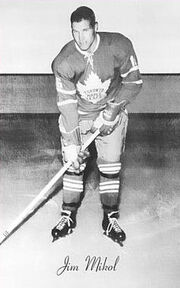 Jim Mikol (born June 11, 1938 in Kitchener, Ontario) is a Canadian former professional ice hockey player. A left winger and defenceman, he played 34 games in the National Hockey League (NHL) for the Toronto Maple Leafs and New York Rangers.
He played junior hockey for the Peterborough Petes from 1956 to 1958. In 1958-59 Mikol played for the senior North Bay Trappers. The next season he turned pro with the Johnstown Jets of the Eastern Hockey League. A good season there got the Cleveland Barons to sign him as a free agent in 1960.
Mikol enjoyed success with the Barons, including 80 points in the 1961-62 season. That earned him some NHL time, with 4 games for the Toronto Maple Leafs in 1962-63 and 30 games for the New York Rangers in 1964-65. In total, Mikol scored a goal and 4 assists in the NHL.
After playing those 30 games for the Rangers, Mikol spent the rest of his career in the minor pros, mostly in the American Hockey League. He retired in 1970.
He was the coach of the Erie Golden Blades in 1982-83 and of the Lakeland Ice Warriors in 1992-93.
External links
Edit
Ad blocker interference detected!
Wikia is a free-to-use site that makes money from advertising. We have a modified experience for viewers using ad blockers

Wikia is not accessible if you've made further modifications. Remove the custom ad blocker rule(s) and the page will load as expected.