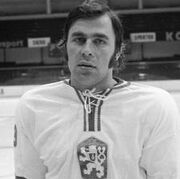 Jiří Bubla (b. January 27th 1950 in Ústí nad Labem, Czechoslovakia) is a former professional defenceman who played in the Czechoslovak Extraliga for HC Litvinov and HC Sparta Praha, as well as in the National Hockey League for the Vancouver Canucks.
He became, along with Ivan Hlinka, the first Czechoslovak player to legally play in North America, with the permission of the Czechoslovak autorities, and the first Czechoslovak, again along with Hlinka, to take part in an NHL Stanley Cup final.
Bubla was a regular member of the Czechoslovak National Team, winning the 1972, 1976 and 1977 World Championships.
Ad blocker interference detected!
Wikia is a free-to-use site that makes money from advertising. We have a modified experience for viewers using ad blockers

Wikia is not accessible if you've made further modifications. Remove the custom ad blocker rule(s) and the page will load as expected.