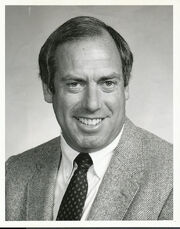 Jeff Sauer (born March 10, 1943 in Fort Atkinson, Wisconsin) is a retired American ice hockey coach. Sauer was the head coach at the University of Wisconsin from 1983 to 2002 and Colorado College from 1971 to 1980. While at Wisconsin, he led the Badgers to two NCAA men's ice hockey championships. Sauer coached the Badgers from 1982 to 2002, winning NCAA titles in 1983 and 1990 and recently, coached the U.S. sled hockey team, winning the Paralympic title in 2014. He also guided the U.S. team at the 2007 Winter Deaflympics to a gold medal.  He was inducted into the USA Hockey Hall of Fame in 2014 and into the University of Wisconsin Hall of Fame in 2016.
He passed away on February 2, 2017 after a battle with pancreatic cancer
Read more: http://www.uscho.com/2017/02/02/legendary-wisconsin-coach-jeff-sauer-succumbs-to-pancreatic-cancer-at-73/#ixzz4XZgkTvGe
External links
Edit
Ad blocker interference detected!
Wikia is a free-to-use site that makes money from advertising. We have a modified experience for viewers using ad blockers

Wikia is not accessible if you've made further modifications. Remove the custom ad blocker rule(s) and the page will load as expected.