Ad blocker interference detected!
Wikia is a free-to-use site that makes money from advertising. We have a modified experience for viewers using ad blockers

Wikia is not accessible if you've made further modifications. Remove the custom ad blocker rule(s) and the page will load as expected.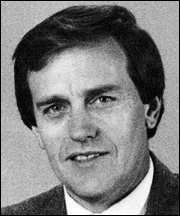 Jean Perron (b. October 5, 1946 in Saint-Isidore-d'Auckland, Quebec) was a head coach for the National Hockey League Montreal Canadiens and Quebec Nordiques. Perron coached the Habs for three seasons, and led them to a Stanley Cup in 1986. He was last rookie coach to win the Stanley Cup. In Quebec City, he led the Nordiques for one season, 1988. He also coached in the AHL with the Manitoba Moose and in the IHL with the San Francisco Spiders.
He also coached the NHL All-Stars in Rendez-vous '87.
At the end of his coaching career, Perron became a hockey analyst for different media in Quebec and appeared regularly on TQS's sports debates show 110%. He was often mocked for his incorrect use of proverbs and idioms and a book, Les Perronismes supposedly listing his most famous linguistic faux-pas was published in 2001. Perron sued the authors.
In 2004 Perron was named the coach of the Under 18 national hockey team and senior national team of Israel. He has since led both teams to new heights with Israel being promoted to Division I International Ice Hockey Federation world championships for one year and the U18 team being promoted to Division II.
Coaching record
Edit
Team
Year
Regular Season
Post Season
G
W
L
T
OTL
Pts
Finish
Result
MTL
1985–86
80
40
33
7
-
87
2nd in Adams
Won Stanley Cup
MTL
1986–87
80
41
29
10
-
92
2nd in Adams
Lost in Third Round
MTL
1987–88
80
45
22
13
-
103
1st in Adams
Lost in Second Round
QUE
1988–89
46
16
25
5
-
(61)
5th in Adams
Missed Playoffs
SF
1995–96
82
40
32
-
10
90
3rd in South
Lost in First Round
MTB
1996–97
50
16
26
-
8
(74)
5th in Midwest
(Fired During Season)
External links
Edit