Ad blocker interference detected!
Wikia is a free-to-use site that makes money from advertising. We have a modified experience for viewers using ad blockers

Wikia is not accessible if you've made further modifications. Remove the custom ad blocker rule(s) and the page will load as expected.
Jason Duda (born May 5, 1975 in Sexsmith, Alberta) is a retired Canadian professional ice hockey player who played for the Wichita Thunder of the Central Hockey League (CHL). He is the current assistant coach for the Wichita Thunder.
Early life
Edit
Duda was born in Sexsmith, Alberta.
1996-97 Thunder Most Improved Player
2001 CHL All-Star Team
2004-2005 Joe Burton Award (Scoring Champion)
2005 CHL All-Star Team
2006 CHL All-Star Team
Selected to CHL All-Decade Team
2010 Rick Kozuback Award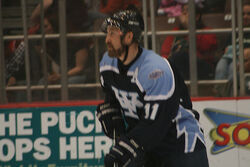 Melfort Mustangs
Edit
Most points in a single season (1995–96) - 141 points
Most goals scored in a single season (1995–96) - 60 goals
Most power play goals in a single season (1995–96) - 27 power play goals
Most assists in a single season (1995–96) - 81 assists
Wichita Thunder
Edit
Most career games played - (730)
Most career goals scored - (337)
Most career assists - (553)
Most career points - (870)
Most consecutive games from 2001-2003 - (225)
Career statistics
Edit
 
 
Regular Season
 
Playoffs
Season
Team
League
GP
G
A
Pts
PIM
GP
G
A
Pts
PIM
1992-93
Saskatoon Blades
WHL
34
11
14
25
21
9
1
5
6
8
1993-94
Saskatoon Blades
WHL
72
5
14
19
22
16
7
7
14
10
1994-95
Saskatoon Blades
WHL
2
0
0
0
0
—
—
—
—
—
1994-95
Medicine Hat Tigers
WHL
3
1
0
1
0
—
—
—
—
—
1996-97
Oklahoma City Blazers
CHL
15
2
6
8
11
—
—
—
—
—
1996-97
Wichita Thunder
CHL
39
15
15
30
34
9
2
7
9
19
1997-98
Wichita Thunder
CHL
60
32
33
65
62
15
9
12
21
10
1998-99
Wichita Thunder
CHL
34
13
24
37
20
4
1
0
1
2
1999-00
Wichita Thunder
CHL
55
27
41
68
60
5
3
6
9
2
2000-01
Wichita Thunder
CHL
70
38
52
90
68
—
—
—
—
—
2001-02
Wichita Thunder
CHL
64
35
48
83
34
—
—
—
—
—
2002-03
Wichita Thunder
CHL
64
31
52
83
60
—
—
—
—
—
2003-04
Wichita Thunder
CHL
55
24
42
66
22
9
3
7
10
6
2004-05
Wichita Thunder
CHL
59
30
66
96
58
13
4
10
14
22
2005-06
Wichita Thunder
CHL
63
31
55
86
70
5
2
1
3
10
2006-07
Wichita Thunder
CHL
62
27
48
75
106
6
1
4
5
12
2007-08
Wichita Thunder
CHL
42
12
19
31
20
—
—
—
—
—
2008-09
Wichita Thunder
CHL
58
20
35
55
62
—
—
—
—
—
2009-10
Wichita Thunder
CHL
5
2
3
5
0
—
—
—
—
—
CHL totals
730
337
533
870
676
96
33
59
92
101
Tribute Video
Edit
External links
Edit