Ad blocker interference detected!
Wikia is a free-to-use site that makes money from advertising. We have a modified experience for viewers using ad blockers

Wikia is not accessible if you've made further modifications. Remove the custom ad blocker rule(s) and the page will load as expected.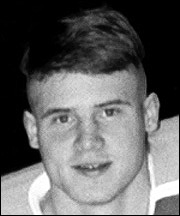 Jaroslav Sevcik (Born May 15 1965 in Brno, Czechoslovakia) is a retired hockey player. He was drafted in the 9th round, 177th overall in the 1987 NHL Entry Draft by the Quebec Nordiques.
-- Regular Season ---  ---- Playoffs ----
Season   Team                        Lge    GP    G    A  Pts  PIM  GP   G   A Pts PIM
--------------------------------------------------------------------------------------
1987-88  Fredericton Express         AHL    32    9    7   16    8  --  --  --  --  --
1988-89  Halifax Citadels            AHL    78   17   41   58   17   4   1   1   2   2
1989-90  Halifax Citadels            AHL    50   17   17   34   38   3   0   1   1   0
1989-90  Quebec Nordiques            NHL    13    0    2    2    2  --  --  --  --  --
1990-91  Halifax Citadels            AHL    66   16   26   42   22  --  --  --  --  --
1991-92  Rapperswil-Jona             Swiss  10    6    3    9    0
1991-92  Rotterdam                   Hlnd   16   13    8   21    0
1992-93  Nottingham Panthers         BHL     7    9    9   18    0
1992-93  Rotterdam                   Hlnd   31   19   28   47   28
1993-94  Nijmegen Tigers             Hlnd   35   22   35   57    0
1994-95  Villach VSV                 Aust   40   21   52   73    0
1995-96  Ratingen Lions              DEL    17    3   10   13    8
1995-96  Klagenfurt AC               Aust   26   11   24   35   12
1996-97  Kapfenberg EC               Aust   41   13   16   29   45
1997-98  Kapfenberg EC               Aust   28    5   14   19   12
1997-98  Chur EHC                    Swiss   0    0    0    0    0
1998-99  Bayreuth ESV                Ger.1  56   30   34   64   26
1999-00  Amsterdam Tigers            Hlnd   22    7   11   18   32   5   1   6   7   2
2000-01  Graz EC                     Aust   39   23   25   48   16
--------------------------------------------------------------------------------------
         NHL Totals                         13    0    2    2    2