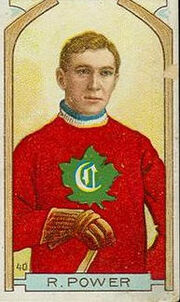 James "Rocket" Power (February 9, 1883 – April 6, 1920) was an amateur, later a professional ice hockey athlete playing the defence position from 1900 to 1913. Born in Sillery, Quebec, Canada, he had two brothers Joe Power and Charles "Chubby" Power who also played ice hockey. Rocket played one regular season game for Quebec Bulldogs 1913 Stanley Cup champion team.
Playing career
Edit
Power started his playing career with the Quebec Crescents in 1900. He joined the Quebec Hockey Club organization in 1901, playing for the Quebec "Seconds" in the CAHL Intermediate division, playing five games for the Quebec HC in the 1902–03 season. In 1903–04 he played for the Canadian Sault Hockey Club professional team before returning to Quebec in 1904–05. He would go west to play for the Edmonton Thistles in 1905–06, returning to Quebec in 1907–08. In 1908–09, he would play for the Edmonton Professional Hockey Club. In 1909, he returned to Quebec, but played for Waterloo of the Ontario Professional Hockey Leagu after the CHA folded. He split 1910–11 between Quebec and the Montreal Canadiens. In 1911–12, he played for New Glasgow of the Maritime Professional Hockey League. He played one final game with Quebec in the 1912–13 season before retiring.
References
Edit
Ad blocker interference detected!
Wikia is a free-to-use site that makes money from advertising. We have a modified experience for viewers using ad blockers

Wikia is not accessible if you've made further modifications. Remove the custom ad blocker rule(s) and the page will load as expected.