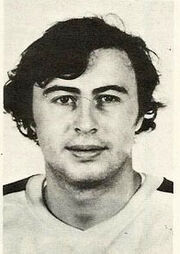 For the other NHL player of the same name please see Jacques Locas (b. 1926).
Jacques Locas (January 7, 1954 – August 20, 2006) was a Canadian professional ice hockey forward. He would play 187 games in the World Hockey Association with the Indianapolis Racers, Baltimore Blades, Michigan Stags, Cincinnati Stingers and Calgary Cowboys. He was born in Saint-Jérôme, Quebec.
He played junior hockey for the Saint Jerome Alouettes (1969-1971) and the Quebec Remparts (1971-1974). He won the Memorial Cup in 1971 with Quebec. In 1973-74 he scored 99 goals and 107 assists for Quebec.
The Los Angeles Kings chose Locas 184th overall in the 1974 NHL Amateur Draft but he chose instead to go to the World Hockey Association (WHA) in 1974-75. He played four seasons in the WHA with five different teams. His best season was 1975-75 when he scored 27 goals and 46 assists with the Cincinnati Stingers. He retired in 1978.
In his WHA career Locas scored 49 goals and 70 assists in 187 games.
External links
Edit
Ad blocker interference detected!
Wikia is a free-to-use site that makes money from advertising. We have a modified experience for viewers using ad blockers

Wikia is not accessible if you've made further modifications. Remove the custom ad blocker rule(s) and the page will load as expected.