Ad blocker interference detected!
Wikia is a free-to-use site that makes money from advertising. We have a modified experience for viewers using ad blockers

Wikia is not accessible if you've made further modifications. Remove the custom ad blocker rule(s) and the page will load as expected.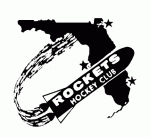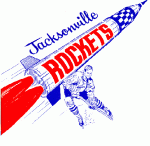 The Jacksonville Rockets were a professional team in Jacksonville, Florida. They played in the Eastern Hockey League from 1964-72.
They played as the Florida Rockets in the 1966-67 and 1967-68 seasons. The Rockets were losing a lot of money in Jacksonville and had started to play in other cities in the state. The name change was meant to reflect this. Even after the name was changed back to Jacksonville, the team continued to play some home games elsewhere.
The team finally folded in the middle of the 1971-72 season.
Season-by-Season Records
Edit
Season
Games
Won
Lost
Tied
Points
Goals
for
Goals
against
Standing
1964-65
72
13
57
2
28
211
385
5th South
1965-66
72
12
57
3
27
207
441
5th South
1966-67
72
27
43
2
56
222
315
5th South
1967-68
72
30
34
8
68
262
288
4th South
1968-69
72
27
37
8
62
267
295
4th South
1969-70
74
27
37
10
64
282
355
4th South
1970-71
74
11
58
5
27
206
453
5th South
1971-72
28
6
20
2
14
81
160
folded mid-season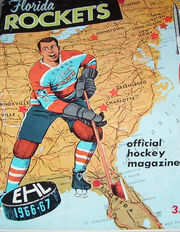 Rockets who played in the NHLEdit