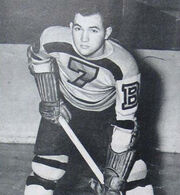 Jackie Schmidt (born November 11, 1924 in Odessa, Saskatchewan) was a professional ice hockey left winger. He played 45 games in the National Hockey League with the Boston Bruins in 1942-43, scoring 6 goals and 7 assists.
He played junior hockey with the Regina Abbotts in 1941-42.
After playing with the Bruins, Schmidt played mostly senior hockey until 1954-55.
References
Edit
Ad blocker interference detected!
Wikia is a free-to-use site that makes money from advertising. We have a modified experience for viewers using ad blockers

Wikia is not accessible if you've made further modifications. Remove the custom ad blocker rule(s) and the page will load as expected.