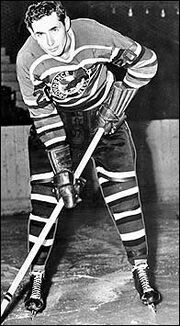 Jack Stoddard (born September 26, 1926 in Stoney Creek, Ontario ) was a professional ice hockey right winger who played 80 games in the National Hockey League. He played with the New York Rangers.
He played junior hockey for the Stratford Kroehlers, Hamilton Whizzers, and Hamilton Lloyds from 1943 to 1946. In 1946 he turned pro with the Baltimore Clippers of the Eastern Hockey League. The next year he jumped up to the Providence Reds of the American Hockey League, with whom he spent the better part of five seasons.
The Reds traded Stoddard to the New York Rangers on January 1, 1952, and he played there for a season and a half, scoring 16 goals and 15 assists in 80 games. After that he moved back to the minor pros.
In 1955 he played senior hockey until he retired in 1962. In 1959-60 he played for the Chatham Maroons and won the Allan Cup.
In 1972-73 Stoddard was the coach of the senior Owen Sound Downtowners.
References
Edit
Ad blocker interference detected!
Wikia is a free-to-use site that makes money from advertising. We have a modified experience for viewers using ad blockers

Wikia is not accessible if you've made further modifications. Remove the custom ad blocker rule(s) and the page will load as expected.