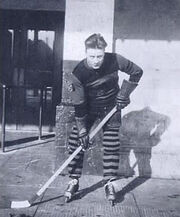 John "Jack" Pratt (b. April 13, 1906 in Edinburgh, Scotland, United Kingdom - d. January 11, 1988) was a professional ice hockey right winger. He played 37 games in the National Hockey League for the Boston Bruins in the 1930-31 and 1931-32 seasons, scoring 2 goals.
He played for much of his career with the Kimberley Dynamiters of the West Kootenay League.
He retired in 1940.
External links
Edit
Ad blocker interference detected!
Wikia is a free-to-use site that makes money from advertising. We have a modified experience for viewers using ad blockers

Wikia is not accessible if you've made further modifications. Remove the custom ad blocker rule(s) and the page will load as expected.