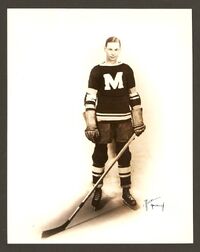 Jack McVicar (born June 4, 1904, date of death unknown) was a professional ice hockey player who played 88 games in the National Hockey League. He played for the Montreal Maroons. He was born in Renfrew, Ontario.
He played junior and senior hockey in Iroquois Falls and then played for the intermediate Grimsby Peach Kings from 1923 to 1926. McVicar then turned pro with the Chicago Cardinals of the American Hockey Association and played minor pro until 1930. Then he was signed by the Montreal Maroons with whom he played in 1930-31 and 1931-32.
After that he went back to the minor pros until he retired in 1934. He made a comeback with the Peach Kings in 1936-37.
External links
Edit
Ad blocker interference detected!
Wikia is a free-to-use site that makes money from advertising. We have a modified experience for viewers using ad blockers

Wikia is not accessible if you've made further modifications. Remove the custom ad blocker rule(s) and the page will load as expected.