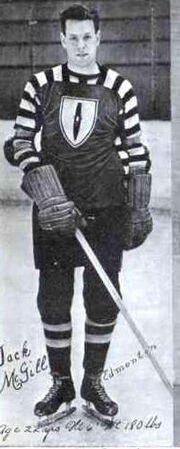 John George "Big Jack" McGill (September 19 1921 – January 13 1994) was a professional ice hockey player.
Born in Edmonton, Alberta, McGill registered 19 points in his first 13 games with the Boston Bruins of the National Hockey League. Despite his impressive debut, he only spent parts of two more seasons with the Bruins, finishing the remainder of his career in the AHL and other minor leagues. In 97 regular season NHL games, McGill recorded 23 goals and 36 assists for 59 points.
He played junior with the Edmonton Athletic Club from 1937 to 1940. He won the Allan Cup in 1943 with the Ottawa Commandos.
External links
Edit
Ad blocker interference detected!
Wikia is a free-to-use site that makes money from advertising. We have a modified experience for viewers using ad blockers

Wikia is not accessible if you've made further modifications. Remove the custom ad blocker rule(s) and the page will load as expected.