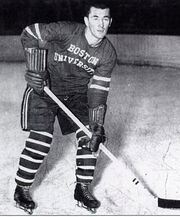 John H. "Jack" Kelley (born July 10, 1927 in Medford, Massachusetts) is a former American ice hockey coach. He is a member of the United States Hockey Hall of Fame. Kelley was general manager and head coach of the New England Whalers of the World Hockey Association in the 1972-73 season, winning the Howard Baldwin Trophy as the coach of the year. He also led the Whalers to the Avco World Trophy that year. He was also head coach at Boston University, leading the Terriers to back-to-back NCAA hockey championships in 1971 and 1972. His son is writer and producer, David E. Kelley.
External links
Edit
Ad blocker interference detected!
Wikia is a free-to-use site that makes money from advertising. We have a modified experience for viewers using ad blockers

Wikia is not accessible if you've made further modifications. Remove the custom ad blocker rule(s) and the page will load as expected.