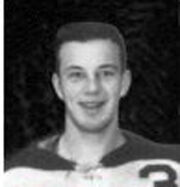 John Gunnard "Jack" Hendrickson (born December 5, 1936 in Kingston, Ontario) is a retired professional hockey defenceman. In 2004, Hendrickson was inducted into the Midland, Ontario Sports Hall of Fame.[1]
Hendrickson played professional hockey from 1954-55 through the 1970-71 season. He played a total of five games in the National Hockey League with the Detroit Red Wings. He also played in the American Hockey League, the Eastern Professional Hockey League, the Western Hockey League, the Central Professional Hockey League (later the Central Hockey League), the International Hockey League, and the Eastern Hockey League.[2] Before he began his pro career, Hendrickson starred on defence when the 1953-54 Midland Greenshirts - coached by Hockey Hall of Famer Roy Conacher - won the Ontario Hockey Association Junior C championship (Clarence Schmalz Cup).
External links
Edit
Ad blocker interference detected!
Wikia is a free-to-use site that makes money from advertising. We have a modified experience for viewers using ad blockers

Wikia is not accessible if you've made further modifications. Remove the custom ad blocker rule(s) and the page will load as expected.