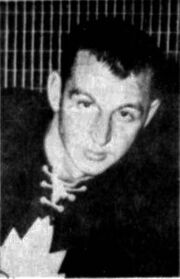 John "Jack" Douglas (April 24, 1930 – January 12, 2003) was a Canadian ice hockey defenceman who competed in the 1960 Winter Olympics. He was born in Trenton, Ontario.
Douglas won the silver medal at the 1960 Winter Olympics in ice hockey. He was loaned to the Kitchener-Waterloo Dutchmen by the Chatham Maroons for the Olympics.
He played for Indianapolis Chiefs, Chatham Maroons and Pittsburgh Hornets. Douglas played 1 match in the American Hockey League and 119 matches in the International Hockey League.
References
Edit
Ad blocker interference detected!
Wikia is a free-to-use site that makes money from advertising. We have a modified experience for viewers using ad blockers

Wikia is not accessible if you've made further modifications. Remove the custom ad blocker rule(s) and the page will load as expected.