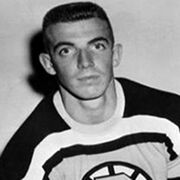 John J. "Jack" Caffery (June 30, 1934 in Kingston, Ontario - December 2, 1992) is a professional ice hockey centre who played 57 games in the National Hockey League. He played with the Toronto Maple Leafs and Boston Bruins from 1954 to 1957, scoring 3 goals and 2 assists.
Caffery played for the St. Michael's Buzzers Junior "B" and the St. Michael's Majors Junior "A" teams from 1950 to 1954. He then turned pro in 1954-55 with the Leafs and played until 1958.
He was a good professional baseball player and juggled his time between the two sports until 1958, when he turned to baseball full-time. Caffery played two more seasons of hockey - 1960-61 with the Springfield Indians and 1963-64 with the Greensboro Generals.
References
Edit
Ad blocker interference detected!
Wikia is a free-to-use site that makes money from advertising. We have a modified experience for viewers using ad blockers

Wikia is not accessible if you've made further modifications. Remove the custom ad blocker rule(s) and the page will load as expected.