The J-Ice West League is an amateur ice hockey league from Japan. This league is, along with the J-Ice North League, under the Asia League in the ice hockey pyramid in Japan (though there exists no promotion and relegation between any of those leagues). The J-Ice West contains teams from all over the country, Hokkaido excepted, and is usually regarded as weaker than its Northern counterpart.
This league is affiliated to the Japanese Ice Hockey Federation and was created in 2005. The tournaments' matches are broadcasted by the Takamatsu cable television.
2009-10 participating teams
Edit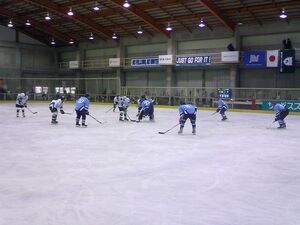 2010-11 participating teams
Edit
2011-12 participating teams
Edit
Champions
Edit
Ad blocker interference detected!
Wikia is a free-to-use site that makes money from advertising. We have a modified experience for viewers using ad blockers

Wikia is not accessible if you've made further modifications. Remove the custom ad blocker rule(s) and the page will load as expected.