Ad blocker interference detected!
Wikia is a free-to-use site that makes money from advertising. We have a modified experience for viewers using ad blockers

Wikia is not accessible if you've made further modifications. Remove the custom ad blocker rule(s) and the page will load as expected.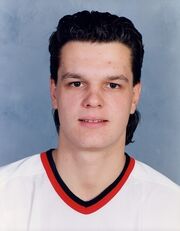 Ivan Droppa (Born Feb 1 1972 in Liptovsky Mikulas, Czechoslovakia) is an ice hockey defenceman. He was drafted in the 2nd round, 37th overall in the 1990 NHL Entry Draft by the Chicago Blackhawks.
-- Regular Season ---  ---- Playoffs ----
Season   Team                        Lge    GP    G    A  Pts  PIM  GP   G   A Pts PIM
--------------------------------------------------------------------------------------
1990-91  Kosice HC                   Czech  49    1    7    8   12
1992-93  Indianapolis Ice            IHL    77   14   29   43   92   5   0   1   1   2
1993-94  Indianapolis Ice            IHL    55    9   10   19   71  --  --  --  --  --
1993-94  Chicago Blackhawks          NHL    12    0    1    1   12  --  --  --  --  --
1994-95  Indianapolis Ice            IHL    67    5   28   33   91  --  --  --  --  --
1995-96  Indianapolis Ice            IHL    72    6   30   36   71   3   0   1   1   2
1995-96  Chicago Blackhawks          NHL     7    0    0    0    2  --  --  --  --  --
1996-97  Indianapolis Ice            IHL    26    1   13   14   44  --  --  --  --  --
1996-97  Carolina Monarchs           AHL    47    4   22   26   48  --  --  --  --  --
1998-99  Nuermberg Ice Tigers        DEL    42   10   14   24   97
1999-00  Kassel Huskies              DEL    26    2   11   13   24   8   1   0   1  16
2000-01  Duesseldorf EG              DEL    48    6   10   16   50  --  --  --  --  --
2001-02  DEG Metro Stars             DEL    59    6   16   22   81  --  --  --  --  --
2002-03  Nuermberg Ice Tigers        DEL    46    2    8   10   56   5   0   3   3   2
2003-04  Litvinov CHP HC             Czech  36    1    7    8   16  --  --  --  --  --
2003-04  Slavia Praha HC             Czech  13    1    3    4   14  --  --  --  --  --
2004-05  Zilina HK-SKP               Slova  52    6   11   17   37
2005-06  Zilina HK-SKP               Slova  54    3   13   16   70
2006-07  Kosice HC                   Slova  50    9   16   25   82
2007-08  Kosice HC                   Slova  48    9   14   23  101
2008-09  Zilina HK-SKP               Slova  44    4   11   15   74
2008-09  Schwenningen ERC            2.GBu   9    1    3    4    8   1   0   1   1   6
2009-10  Villard-de-Lans             Franc   7    0    1    1    8
--------------------------------------------------------------------------------------
         NHL Totals                         19    0    1    1   14