Ad blocker interference detected!
Wikia is a free-to-use site that makes money from advertising. We have a modified experience for viewers using ad blockers

Wikia is not accessible if you've made further modifications. Remove the custom ad blocker rule(s) and the page will load as expected.
Italy
Nickname(s)
The Blue Team, Azzurri
Association
Federazione Italiana Sport del Ghiaccio
Head coach
Rick Cornacchia
Assistants
Marco Liberatore
Fabio Polloni
Captain
Roland Ramoser
Most games
Lucio Topatigh (243)
Top scorer
Lucio Topatigh (131)
IIHF code
ITA
IIHF ranking
16
Highest IIHF ranking
13 (2007)
Lowest IIHF ranking
19 (first in 2004)
Team colours

    

    

    

First international
 Sweden 7 - 1 Italy 
(Milan, Italy; March 14, 1924)
Biggest win
 Italy 28 - 0 Belgium 
(Düsseldorf, Germany; March 1, 1955)
Biggest defeat
 United States of America 31 - 1 Italy 
(St. Moritz, Switzerland; February 1, 1948)
IIHF World Championships
Appearances
22 (first in 1930)
Best result
4th (1953)
IIHF European Championships
Appearances
3
Best result
4th (1929)
Olympics
Appearances
9 (first in 1936)
International record (W-L-T)
323-396-77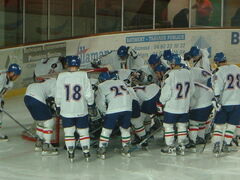 The Italian men's national ice hockey team is the national ice hockey team of Italy, and is controlled by the Federazione Italiana Sport del Ghiaccio (FISG), a member of the International Ice Hockey Federation.
2010 World Ice Hockey Championship team
Edit
2006 Olympic team
Edit
Goaltenders
Defensemen
Forwards
71 Luca Ansoldi
21 Giuseppe Busillo (C)
24 Mario Chitarroni (A)
34 Jason Cirone
9 Giorgio de Bettin
23 Shane Myers
28 Manuel de Toni
20 Joseph Rotondo
17 Anthony Iob
22 Stefano Margoni
16 John Parco
33 Anthony Tuzzolino
2 Stefan Zisser
Coaches
Olympic record
Edit
European Championship record
Edit
1910 - 1923 - Did not participate
1924 - Finished in 5th place
1925 - Did not participate
1926 - Finished in 8th place
1927-1928 - Did not participate
1929 - Finished in 4th place
1932 - Did not participate
World Championship record
Edit
1930 - Finished in 10th place
1931 - Did not participate
1933 - Finished in 11th place
1934 - Finished in 9th place
1935 - Finished in 8th place
1937 - Did not participate
1938 - Did not participate
1939 - Finished in 9th place
1947 - Did not participate
1949 - Did not participate
1950 - Did not participate
1951 - Finished in 8th place (1st in the "B" Pool)
1952 - Finished in 12th place (3rd in the "B" Pool)
1953 - Finished in 4th place (1st in the "B" Pool)
1955 - Finished in 10th place (1st in the "B" Pool)
1957-1958 - Did not participate
1959 - Finished in 10th place
1961 - Finished in 12th place (4th in the "B" Pool)
1962-1963 - Did not participate
1964 - Finished in 15th place (7th in the "B" Pool)
1965 - Did not participate
1966 - Finished in 17th place (1st in the "C" Pool)
1967 - Finished in 13th place (5th in the "B" Pool)
1968 - Did not participate
1969 - Finished in 14th place (8th in the "B" Pool)
1970 - Finished in 16th place (2nd in the "C" Pool)
1971 - Finished in 14th place (8th in the "B" Pool)
1972 - Finished in 15th place (2nd in the "C" Pool)
1973 - Finished in 14th place (8th in the "B" Pool)
1974 - Finished in 16th place (2nd in the "C" Pool)
1975 - Finished in 13th place (7th in the "B" Pool)
1976 - Finished in 15th place (7th in the "B" Pool)
1977 - Finished in 18th place (1st in the "C" Pool)
1978 - Finished in 15th place (7th in the "B" Pool)
1979 - Finished in 20th place (2nd in the "C" Pool)
1981 - Finished in 9th place (1st in the "B" Pool)
1982 - Finished in 7th place
1983 - Finished in 8th place
1985 - Finished in 11th place (3rd in the "B" Pool)
1986 - Finished in 10th place (2nd in the "B" Pool)
1987 - Finished in 14th place (6th in the "B" Pool)
1989 - Finished in 10th place (2nd in the "B" Pool)
1990 - Finished in 10th place (2nd in the "B" Pool)
1991 - Finished in 9th place (1st in the "B" Pool)
1992 - Finished in 12th place
1993 - Finished in 8th place
1994 - Finished in 6th place
1995 - Finished in 7th place
1996 - Finished in 7th place
1997 - Finished in 8th place
1998 - Finished in 10th place
1999 - Finished in 13th place
2000 - Finished in 12th place
2001 - Finished in 12th place
2002 - Finished in 15th place
2003 - Finished in 23rd place (4th in Division I, Group B)
2004 - Finished in 19th place (2nd in Division I, Group B)
2005 - Finished in 18th place (1st in Division I, Group B)
2006 - Finished in 14th place
2007 - Finished in 12th place
2008 - Finished in 16th place