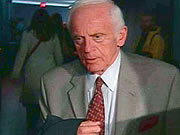 Irving Grundman is a former general manager of the Montreal Canadiens. He is also a former Montreal city councillor.
He is founder and president of Laurentian Lanes. The company owns bowling alleys in Montreal, Ottawa and Kingston.
Hockey career
Edit
Irving Grundman served as GM of the Canadiens from 1978 to 1983. He became GM after Sam Pollock retired. His name was engraved on the Stanley Cups in 1979. He was responsible for drafting future NHL stars such as Guy Carbonneau and Chris Chelios. He was replaced as GM by Serge Savard in 1983.
Political career
Edit
After his hockey career ended he became a Montreal city councillor.
External links
Edit