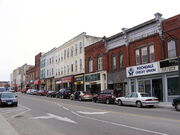 Ingersoll is a town of about 12,000 people in southwestern Ontario near the cities of Woodstock and London.
(Ontario Hockey Association Jr., 1901-1902, 1903-1905, 1906-1907, 1910-1919, 1921-1924, 1926-1933)
(Ontario Hockey Association Jr. A, 1933-1934) withdrew
Ingersoll & District Memorial Centre
External Links
Edit
Ad blocker interference detected!
Wikia is a free-to-use site that makes money from advertising. We have a modified experience for viewers using ad blockers

Wikia is not accessible if you've made further modifications. Remove the custom ad blocker rule(s) and the page will load as expected.