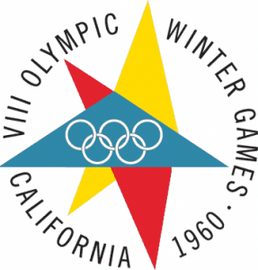 At the 1960 Olympics' held in Squaw Valley, California, United States, one ice hockey event was held: men's Ice Hockey. This tournament was also counted as IIHF World Championship and IIHF European Championship. Games were held at Blyth Arena.
Medalists
Edit
Preliminary round
Edit
Top two teams (shaded ones) from each group advanced to the final round and played for 1st-6th places, other teams played in the consolation round.
February 19
February 20
February 21
February 19
February 20
February 21
Germany (UTG) 4-1 Finland
February 19
February 20
Czechoslovakia 18-1 Australia
February 21
Consolation round
Edit
Teams, which didn't qualify for the final round, played here.
February 22
February 23
February 24
February 25
February 26
February 27
Final round
Edit
First place team wins gold, second silver and third bronze.
February 22
USSR 8-5 Czechoslovakia
USA 6-3 Sweden
Canada 12-0 Germany (UTG)
February 24
USA 9-1 Germany (UTG)
USSR 2-2 Sweden
Canada 4-0 Czechoslovakia
February 25
USSR 7-1 Germany (UTG)
USA 2-1 Canada
Czechoslovakia 3-1 Sweden
February 27
Czechoslovakia 9-1 Germany (UTG)
USA 3-2 USSR
Canada 6-5 Sweden
February 28
USA 9-4 Czechoslovakia
Sweden 8-2 Germany (UTG)
Canada 8-5 USSR
Leading Players
Edit
Leading scorers
Edit
Final ranking
Edit
Team Photos
Edit
Team Photos
Edit
References
Edit