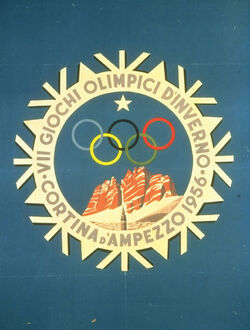 At the 1956 Winter Olympics held in Cortina d'Ampezzo, Italy, one ice hockey event was held: men's ice hockey. This tournament was also counted as IIHF World Championship and IIHF European Championship. For World Championships Pool B matches were also played between East Germany, Norway and Belgium in Berlin. Games were held at the Stadio Olympica.
Medalists
Edit
Preliminary round (Pool A for WC)
Edit
Top two teams (shaded ones) from each group earned a right to play for 1st-6th places.
January 26

Canada 4-0 Germany (UTG)
Italy 2-2 Austria
January 27

Italy 2-2 Germany (UTG)
Canada 23-0 Austria
January 28

Germany (UTG) 7-0 Austria
Italy 1-3 Canada
January 29

Czechoslovakia 8-3 Poland
Final round
Edit
Games for 1st-6th places
Edit
First place team wins gold, second silver and third bronze.
January 30

USA 7-2 Germany (UTG)
Canada 6-3 Czechoslovakia
USSR 4-1 Sweden
January 31

USSR 8-0 Germany (UTG)
Sweden 5-0 Czechoslovakia
USA 4-1 Canada
February 2

Canada 10-0 Germany (UTG)
USSR 7-4 Czechoslovakia
February 3

Czechoslovakia 9-3 Germany (UTG)
Canada 6-2 Sweden
USSR 4-0 USA
February 4

USSR 2-0 Canada
Germany (UTG) 1-1 Sweden
USA 9-4 Czechoslovakia
Games for 7th-10th places
Edit
February 1

Poland 6-2 Switzerland
Italy 8-2 Austria
February 2

Italy 8-3 Switzerland
Poland 4-3 Austria
Leading scorers
Edit
Final ranking
Edit
Team Photos
Edit
References
Edit