Ad blocker interference detected!
Wikia is a free-to-use site that makes money from advertising. We have a modified experience for viewers using ad blockers

Wikia is not accessible if you've made further modifications. Remove the custom ad blocker rule(s) and the page will load as expected.
This article or section is in the middle of an expansion or major revamping. You are welcome to assist in its construction by editing it as well. If this article has not been edited in several days, please remove this template.
This article was last edited by Mark Staffieri (talk| contribs) 5 years ago. (Purge)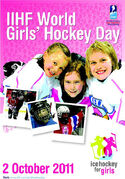 World Girls' Hockey Day was an event spearheaded by the International Ice Hockey Federation.[1] The first celebration took place on 2nd October 2011. Coming out of the 2010 Winter Games in Vancouver, the IIHF implemented a strategy to develop women's hockey and close gaps between countries in international competition.[2]
Events include opportunities for girls of all ages to try ice hockey. Initiatives include introduction to basic skills, and learning about opportunities to play in their community.
USA Hockey
Edit
For the first World Girls' Hockey Day, the following Olympic ice hockey players participated:
Meghan Duggan, Hilary Knight: Stoughton, Wisconsin, Try Hockey for Free Clinic
Anne Schelper, Jen Schoullis: Shakopee, Minneosta, Mother-Daughter skate
Caitlin Cahow, Gigi Marvin, Bri Mastel, Molly Schaus: Waltham, Massachusetts, Try Hockey for Free Clinic
Kaliya Johnson, Annie Pankowski, Paige Savage: Jay, Vermont, North American Hockey Academy Game and Open Skate
The following NCAA schools held events:
Northeastern University is working with the Middlesex Islanders
Rensselaer Polytechnic Institute (RPI) will participate with the Troy Albany Ice Cats in Troy, N.Y.
St. Cloud State University is hosting an event at their home rink, the National Hockey Center
Yale University is working with the Connecticut Polar Bears in Killingworth, Conn
Involved associations
Edit
Hockey Canada: Events for the first World Hockey Day were held by Hockey Canada in Alberta, British Columbia, Manitoba, New Brunswick, Nova Scotia, Nunavut, Ontario, Prince Edward Island and Quebec.[3]
USA Hockey: According to USA Hockey, the first World Girls' Hockey Day will involve 76 local hockey associations and five NCAA colleges hosting events on October 2, 2011.[4]
Australia, Belarus, Finland, France, Britain, Hungary, Ireland, Italy, Japan, Kazakhstan, Latvia, Russia, Switzerland and Sweden
References
Edit