Ad blocker interference detected!
Wikia is a free-to-use site that makes money from advertising. We have a modified experience for viewers using ad blockers

Wikia is not accessible if you've made further modifications. Remove the custom ad blocker rule(s) and the page will load as expected.
---
For other towns named Huntsville, please see Huntsville.
---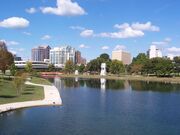 Huntsville is a city in the north of Alabama, United States, located in the counties of Madison and Limestone. 171,327 persons live in the city.
Hockey in Huntsville
Edit
(Southern Hockey League 1995-1996) join Central Hockey League
Central Hockey League 1996-2000, renamed Huntsville Tornado
Atlantic Coast Hockey League, (2003) franchise awarded as expansion team, but move to SEHL
South East Hockey League, 2003-2004) folded
Huntsville Tornado (Central Hockey League, (2000-2001) go inactive for 2 years and then return as a junior team (uncertain if return actually happened, haven't found any information yet)
Collegiate
Edit
University of Alabama-Huntsville Chargers (1979-Present)

Club sport (1979-1985) join NAIA
NAIA (1985-1986) join NCAA Division II
Division II (1986-1987) join Division I when NCAA stops Division II Championship
Division I Indepenedent (1987-1992) rejoin Division II when NCAA restarts chamionship
Division II (1992-1999) join Division I-CHA
College Hockey America (1999-2010) go independent when league folds
Division I Indepenedent (2010-Present)
Benton H. Wilcoxon Municipal Ice Complex
Von Braun Center (March 14, 1975-Present)
External Links
Edit