The Hull-Ottawa Canadiens were a minor professional team that played in Hull, Quebec but also represented the city of Ottawa, Ontario, just across the river.
They played in the Eastern Professional Hockey League from 1959-63. The Canadiens were a farm team of the Montreal Canadiens of the NHL.
The Canadiens won the Tom Foley Memorial Trophy (league title) in 1960-61 and 1961-62.
In 1963 the Eastern Professional Hockey League folded and the teams went to the Central Hockey League (1963-1984). The Canadiens were transferred to the Omaha Knights.
Season-by-Season Records
Edit
Season
Games
Won
Lost
Tied
Points
Goals
for
Goals
against
Standing
Playoffs
1959-60
70
31
28
11
73
249
241
3rd
Lost Semi Final
1960-61
70
41
20
9
91
268
187
1st
Won Final
1961-62
70
38
21
11
87
233
172
1st
Won Final
1962-63
72
40
25
7
87
279
224
2nd
Lost Semi Final
Hull-Ottawa Canadiens who played in the NHLEdit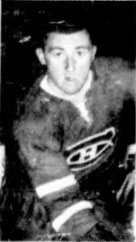 Ad blocker interference detected!
Wikia is a free-to-use site that makes money from advertising. We have a modified experience for viewers using ad blockers

Wikia is not accessible if you've made further modifications. Remove the custom ad blocker rule(s) and the page will load as expected.