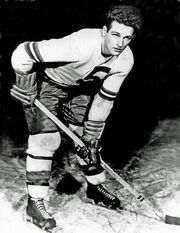 Hugh Currie was born on October 22, 1925 in Saskatoon, Saskatchewan. He played one game in the NHL with the Montreal Canadiens.
He turned pro with the Baltimore Orioles of the Eastern Hockey League in 1943-44. Currie played in the minor pros for 20 seasons across North America,
Currie retired in 1963 and accepted a coaching post with the senior Edmonton Nuggets. After two years behind the Nuggets bench Currie came out of retirement and returned to the ice for 7 games for the club he used to coach and put up six points. His second retirement from the game, after his 7 game return, was final.
Ad blocker interference detected!
Wikia is a free-to-use site that makes money from advertising. We have a modified experience for viewers using ad blockers

Wikia is not accessible if you've made further modifications. Remove the custom ad blocker rule(s) and the page will load as expected.