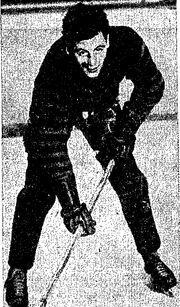 Howard "Howie" Mackie (August 30, 1913 in Berlin, Ontario – March 9, 1952) was a professional ice hockey right winger/defenceman for the Detroit Red Wings in 1936-37 and 1937-38. He played a total of 20 games, scoring a goal. He won the Stanley Cup in 1937 with the Wings.
Mackie played junior hockey in Kitchener from 1930 to 1934 and senior hockey from 1934 to 1936. Most of the rest of his career was spent in the American Hockey League. He retired in 1946.
He died of a heart attack on March 9, 1952.
External links
Edit
Ad blocker interference detected!
Wikia is a free-to-use site that makes money from advertising. We have a modified experience for viewers using ad blockers

Wikia is not accessible if you've made further modifications. Remove the custom ad blocker rule(s) and the page will load as expected.