Honoured Member of the Manitoba Hockey Hall of Fame - Media Category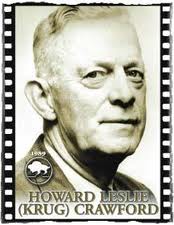 Howard Leslie "Krug" Crawford

from 1919 until he passed away in 1959, served the Brandon Sun well as a news reporter, sports editor, news editor and managing editor... noted for his positive, non-critical, and encouraging style of reporting... also an excellent hockey player in his own right... the Brandon Sun's H.L. (Krug) Crawford Memorial Medal is presented annually to the western Manitoban who best exemplifies sporting excellence throughout the year.
Awards & Achievements
Edit
Ad blocker interference detected!
Wikia is a free-to-use site that makes money from advertising. We have a modified experience for viewers using ad blockers

Wikia is not accessible if you've made further modifications. Remove the custom ad blocker rule(s) and the page will load as expected.