Ad blocker interference detected!
Wikia is a free-to-use site that makes money from advertising. We have a modified experience for viewers using ad blockers

Wikia is not accessible if you've made further modifications. Remove the custom ad blocker rule(s) and the page will load as expected.
Holy Cross Crusaders

Institution:
College of the Holy Cross
Location:
Worcester, Massachusetts
School founded:
1843
Enrollment:
2,700
President:
Michael C. McFarland
Athletic Director:
Richard M. Regan, Jr.
Colors:
Royal Purple
Home Arena:
Hart Center
Capacity:
1,600
Dimensions:
200'x85'
Men's Team
Conference:
Atlantic Hockey
Coach:
Paul Pearl
(Holy Cross '89)
Conf. Championships:
MAAC: 1999
AHA: 2004, 2006
Major Rivals:
Connecticut
Women's Team
Conference:
ECAC East
Coach:
Peter VanBuskirk
(New Hampshire '65)
The Holy Cross Crusaders are a Men's Division I team in Atlantic Hockey and a Women's Division I team who play a Division III schedule in the ECAC East.
Men's program
Edit
The Holy Cross Crusaders men's ice hockey team is a National Collegiate Athletic Association (NCAA) Division I college ice hockey program that represents College of the Holy Cross. The Crusaders are a member of the Atlantic Hockey Association (AHA). They play at the Hart Center in Worcester, Massachusetts.[1]
Holy Cross men's ice hockey began in 1966. The team played as an independent NCAA Division I team from its inception in 1966 through 1998.[2] The Crusaders joined the Metro Atlantic Athletic Conference (MAAC) for ice hockey beginning in the 1998-99 season.[3] That same season the team won the MAAC Tournament Championship. In 2003 ice hockey was split from the MAAC and became the Atlantic Hockey Association, a hockey-only conference.[4]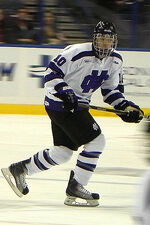 In its history, the Holy Cross ice hockey program has seen two NCAA appearances, and has won the Atlantic Hockey and MAAC three times (1999, 2004, 2006).[5]
In 2004 after beating Sacred Heart 4–0 to win the Atlantic Hockey Championship, the team received a bid to the NCAA Tournament for the first time in the program's history.[6] The Crusaders lost in the NCAA West Regional Semifinal to North Dakota 0–3.[7]
On March 24, 2006, the Holy Cross men's hockey team made history by defeating the Minnesota Golden Gophers in the first round of the NCAA Division I Tournament by the score of 4–3, in overtime.[8] Coined as one of the biggest upsets in NCAA ice hockey history.[9] The upset was the first time a fifteen or sixteen seed beat a number one or two seed, since the field was expanded to sixteen teams.[10]
As a result of the New England Hockey Conference planning on being strictly a Division III conference starting with the 2017-18 season Holy Cross announced in late October 2016 that it would elevate its women's program to full Division I status for the 2017-18 season.  The school has been rumored to be moving its men's program to Hockey East as a replacement for the departing Notre Dame Fighting Irish men's ice hockey program  which is leaving the conference for the Big Ten Conference for the 2017-18 season.  The move of the men's program would appparently force the school to elevate the women's program to Division I, the men's program would also be forced into a larger arena as Hockey East requires a minimum capacity of 4,000.  The only facility that big in the area would be the DCU Center, which the school has used for several games in 2016 against defending national champion Providence College and in-state rival Boston College  The school stated that is was hoping to announce a conference affiliation for its women's program in December or January.  The three options for affiliation are College Hockey America, ECAC and Hockey East.  An independent schedule for 2017-18 is also mentioned as a possibility. 
Current roster
Edit
As of August 22, 2010. [1]
Forwards

#
State
Player
Shoots
Year
Hometown
Previous Team
3
Matt Celin
R
Senior
Gibsonia, Pennsylvania
Bay State (EJHL)
8
Gianni Baldassari
L
Junior
Fort Wayne, Indiana
Fairbanks (NAHL)
10
Kyle Fletcher
L
Sophomore
Kanata, Ontario
Kanata (CJHL)
11
Everett Sheen (C)
R
Senior
Lethbridge, Alberta
Okotoks AJHL)
12
Mark Williamson
R
Freshman
Centennial, Colorado
Brockville (CJHL)
14
Adam Schmidt
R
Freshman
Warrington, Pennsylvania
Sioux City (USHL)
15
Jay Silvia
L
Junior
Burlington, Massachusetts
Belmont Hill School
17
J.P. Martignetti
L
Senior
Winchester, Massachusetts
Boston (EJHL)
18
Jamie Jelinek
R
Senior
Great Falls, Virginia
Tabor Academy
19
Andrew Cox
L
Junior
Lombardy, Ontario
Phillips Academy Andover
21
Matt Gordon
R
Sophomore
Perth, Ontario
Smiths Falls (CJHL)
26
Rob Linsmayer
R
Sophomore
Winnetka, Illinois
Chicago (USHL)
27
Shayne Stockton
R
Freshman
Rochester, New York
Brockville (CJHL)
29
Brandon Nunn
L
Sophomore
Fairport, New York
Bridgewater (EJHL)
33
Erik Vos
R
Sophomore
Carlisle, Ontario
Powell River (BCHL)
44
Luke Miller
L
Junior
Andover, Massachusetts
Phillips Exeter Academy
Women's program
Edit

This entry is a stub. You can help the Ice Hockey Wiki by expanding it. Click the "edit" button to add information.
Template:ECAC East
Cite error: <ref> tags exist, but no <references/> tag was found