Holy Cross Crusaders

Institution:
College of the Holy Cross
Location:
Worcester, Massachusetts
School founded:
1843
Enrollment:
2,700
President:
Michael C. McFarland
Athletic Director:
Richard M. Regan, Jr.
Colors:
Royal Purple
Home Arena:
Hart Center
Capacity:
1,600
Dimensions:
200'x85'
Men's Team
Conference:
Atlantic Hockey
Coach:
Paul Pearl
(Holy Cross '89)
Conf. Championships:
MAAC: 1999
AHA: 2004, 2006
Major Rivals:
Connecticut
Women's Team
Conference:
ECAC East
Coach:
Peter VanBuskirk
(New Hampshire '65)
The Holy Cross Crusaders are a Men's Division I team in Atlantic Hockey and a Women's Division I team who play a Division III schedule in the ECAC East.
Men's program
Edit
The Holy Cross Crusaders men's ice hockey team is a National Collegiate Athletic Association (NCAA) Division I college ice hockey program that represents College of the Holy Cross. The Crusaders are a member of the Atlantic Hockey Association (AHA). They play at the Hart Center in Worcester, Massachusetts.[1]
Holy Cross men's ice hockey began in 1966. The team played as an independent NCAA Division I team from its inception in 1966 through 1998.[2] The Crusaders joined the Metro Atlantic Athletic Conference (MAAC) for ice hockey beginning in the 1998-99 season.[3] That same season the team won the MAAC Tournament Championship. In 2003 ice hockey was split from the MAAC and became the Atlantic Hockey Association, a hockey-only conference.[4]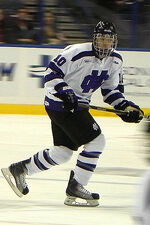 In its history, the Holy Cross ice hockey program has seen two NCAA appearances, and has won the Atlantic Hockey and MAAC three times (1999, 2004, 2006).[5]
In 2004 after beating Sacred Heart 4–0 to win the Atlantic Hockey Championship, the team received a bid to the NCAA Tournament for the first time in the program's history.[6] The Crusaders lost in the NCAA West Regional Semifinal to North Dakota 0–3.[7]
On March 24, 2006, the Holy Cross men's hockey team made history by defeating the Minnesota Golden Gophers in the first round of the NCAA Division I Tournament by the score of 4–3, in overtime.[8] Coined as one of the biggest upsets in NCAA ice hockey history.[9] The upset was the first time a fifteen or sixteen seed beat a number one or two seed, since the field was expanded to sixteen teams.[10]
Current roster
Edit
As of August 22, 2010. [1]
Forwards

#
State
Player
Shoots
Year
Hometown
Previous Team
3
Matt Celin
R
Senior
Gibsonia, Pennsylvania
Bay State (EJHL)
8
Gianni Baldassari
L
Junior
Fort Wayne, Indiana
Fairbanks (NAHL)
10
Kyle Fletcher
L
Sophomore
Kanata, Ontario
Kanata (CJHL)
11
Everett Sheen (C)
R
Senior
Lethbridge, Alberta
Okotoks AJHL)
12
Mark Williamson
R
Freshman
Centennial, Colorado
Brockville (CJHL)
14
Adam Schmidt
R
Freshman
Warrington, Pennsylvania
Sioux City (USHL)
15
Jay Silvia
L
Junior
Burlington, Massachusetts
Belmont Hill School
17
J.P. Martignetti
L
Senior
Winchester, Massachusetts
Boston (EJHL)
18
Jamie Jelinek
R
Senior
Great Falls, Virginia
Tabor Academy
19
Andrew Cox
L
Junior
Lombardy, Ontario
Phillips Academy Andover
21
Matt Gordon
R
Sophomore
Perth, Ontario
Smiths Falls (CJHL)
26
Rob Linsmayer
R
Sophomore
Winnetka, Illinois
Chicago (USHL)
27
Shayne Stockton
R
Freshman
Rochester, New York
Brockville (CJHL)
29
Brandon Nunn
L
Sophomore
Fairport, New York
Bridgewater (EJHL)
33
Erik Vos
R
Sophomore
Carlisle, Ontario
Powell River (BCHL)
44
Luke Miller
L
Junior
Andover, Massachusetts
Phillips Exeter Academy
Women's program
Edit

This entry is a stub. You can help the Ice Hockey Wiki by expanding it. Click the "edit" button to add information.
Template:ECAC East
Cite error: <ref> tags exist, but no <references/> tag was found