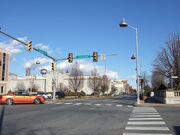 Hershey is a community in central Pennsylvania, United States.
It is not a legal municipality but is a part of Derry Township. The community has a population of 12,000.
Its major employer is the Hershey Company which makes chocolate candy. The company started up the Bears hockey team.
Hershey Bears (1932-present) the franchise made the following evolution in names and leagues
Tri-State Hockey League (1932-1933) join Eastern Amateur Hockey League as Chocolate 'Bars
Eastern Amateur Hockey League (1933-1934) renamed B'ars
Eastern Amateur Hockey League (1934-1936) renamed Bears
Eastern Amateur Hockey League (1936-1938) join International-American Hockey League but keep team in league, Hershey Cubs
International-American Hockey League (1938-1940) league renamed American Hockey League
American Hockey League (1940-Present)
Eastern Amateur Hockey League (1938-1939) folded
External Links
Edit
Ad blocker interference detected!
Wikia is a free-to-use site that makes money from advertising. We have a modified experience for viewers using ad blockers

Wikia is not accessible if you've made further modifications. Remove the custom ad blocker rule(s) and the page will load as expected.