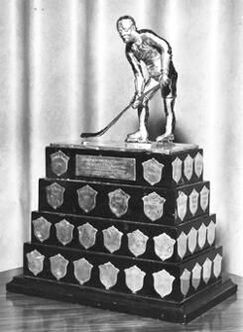 This trophy is awarded to the senior ice hockey champion of Newfoundland and Labrador .
Originally donated by the Herder Family, publishers of The Evening Telegram, in memory of five brothers, it now honors the memory of seven Herders. The "original five" Herders were Arthur, William, Douglas, Augustus and Hubert and they were joined by Ralph and James.

Newfoundland was an independent nation until 1949, when it joined Canada. The Newfoundland Amateur Hockey Association did not join the Canadian Amateur Hockey Association until 1967, which was the first time that Newfoundland could compete for the Allan Cup.
The Corner Brook Royals were he first team from Newfoundland to win the Allan Cup. After that the province ended that competition and started after the Hardy Cup,
The Port-aux-Basques Mariners won the Hardy Cup in 1989.
Champions
Edit
Team Photos
Edit