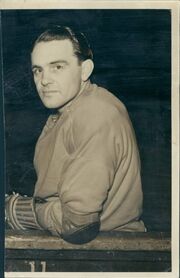 Herbert "Herbie" Lewis (April 17, 1905 – January 20, 1991) was a Canadian professional defenceman who played for the Detroit Red Wings in the National Hockey League. He was born in Calgary, Alberta.
Herbie was one of the fastest skaters of his day. His speed helped the Red Wings win two consecutive Stanley Cups in 1936 and 1937. He was inducted into the Hockey Hall of Fame in 1989.
Lewis started out in junior hockey with the Calgary Hustlers (1921-22) and the Calgary Canadians (1922-23 and 1923-24). The Canadians lost the 1923-24 Memorial Cup Final.
He then played four seasons with the Duluth Hornets before joining the Detroit Red Wings in 1928-29. He played for them until 1938-39, winning two Stanley Cups along the way,
In 1939-40 he joined the Indianapolis Capitals of the International-American Hockey League and played for them for three seasons. He also became the general manager and coach, coaching the team to the Calder Cup in 1941-42.
External links
Edit
Ad blocker interference detected!
Wikia is a free-to-use site that makes money from advertising. We have a modified experience for viewers using ad blockers

Wikia is not accessible if you've made further modifications. Remove the custom ad blocker rule(s) and the page will load as expected.