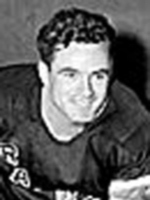 Herb Foster (born August 9, 1913 in Brockville, Ontario - June 2, 2003) was a professional ice hockey left wing who played five games in the National Hockey League. He played with the New York Rangers and scored 1 goal.
He played for the Atlantic City Sea Gulls of the Eastern Hockey League from 1932-33 through 1938-39. He led the league in scoring in 1937, 1938 and 1939, led in goals in 1936, 1937, 1938, and 1939, and was on the first all-star team in five seasons.
Foster then played in the American Hockey League through 1942-43, also playing 5 games for the New York Rangers in 1940-41. He joined the senior Kingston Army Frontenacs team in 1943-44 and then spent two years in the Canadian military during World War II.
After the war he played some more minor pro hockey, plus a game with the Rangers in 1947-48. After retiring in 1950 he coached his old team the Atlantic City Sea Gulls for two years (1950-51 & 1951-52).
References
Edit
Ad blocker interference detected!
Wikia is a free-to-use site that makes money from advertising. We have a modified experience for viewers using ad blockers

Wikia is not accessible if you've made further modifications. Remove the custom ad blocker rule(s) and the page will load as expected.