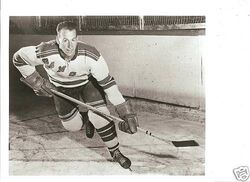 John Herbert Dickenson (born June 11, 1931 in Hamilton, Ontario) is a retired Canadian ice hockey left winger. He played in the NHL for the New York Rangers.
From 1949 to 1951 he played junior hockey for the Guelph Biltmores.
He played in 48 games for the Rangers over two seasons (1951-52 & 1952-53) and scored 18 goals and 17 assists.
In November 1952 he was struck in the eye by a puck during a warmup before a game against the Toronto Maple Leafs. The injury ended a promising career.
Ad blocker interference detected!
Wikia is a free-to-use site that makes money from advertising. We have a modified experience for viewers using ad blockers

Wikia is not accessible if you've made further modifications. Remove the custom ad blocker rule(s) and the page will load as expected.