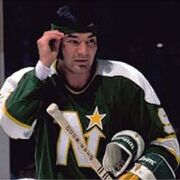 Henry Charles Boucha

Drafted by the Detroit Red Wings 16th overall in the 1971 NHL Amateur Draft and first overall by the Minnesota Fighting Saints in the 1971 WHA Amateur Draft. Boucha choose the Wings over the Saints and made his NHL debuts in 1971-72. Boucha was a talented goal scorer and good penalty killer; he and his trademark headband were very popular among Detroit fans. He was dealt to the Minnesota North Stars for Danny Grant. Boucha enjoyed some deserved success in his home state when Dave Forbes of the Boston Bruins ended his season after swinging his stick at him, cracking the bone around his eye and blurring his vision. Boucha eventually sued Forbes for the damages he was inflicted in the incident, and settled for $1.5 millions from Forbes, the Bruins and the league.
Boucha attempted a comeback to hockey in 1975, but he wasn't the same player anymore; he retired in 1976 after six games with the Colorado Rockies.
His cousins Gary and Earl Sargent were also pro hockey players; the former played in the NHL, while the second was a career minor-leaguer.
Career Statistics
Edit
 
 
Regular Season
 
Playoffs
Season
Team
League
GP
G
A
Pts
PIM
GP
G
A
Pts
PIM
1969-70
Winnipeg Jets
WCHL
51
27
26
53
37
14
6
3
9
37
External links
Edit
Ad blocker interference detected!
Wikia is a free-to-use site that makes money from advertising. We have a modified experience for viewers using ad blockers

Wikia is not accessible if you've made further modifications. Remove the custom ad blocker rule(s) and the page will load as expected.